Posted on December 26th, 2006
Source: The Telegraph, Calcutta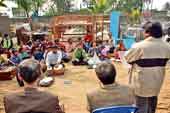 Christ Mission Ashram, in Kalikapur, demolished in January 2006 by the CMDA to make way for a key link between Prince Anwar Shah Road and the EM Bypass, has found a new address.
"Following talks with municipal affairs minister Asok Bhattacharya, who is also chairman of the CMDA, we have purchased from the government a plot in Hatisur, off the Bypass, to rebuild the ashram," said Reverend Sukrit Roy.
In Kalikapur, the ashram was spread over 33 cottahs and housed the Calcutta Love Presbyterian Church, a school, an orphanage, a women's hostel and a creche. The new plot measures 12 cottahs.
"The Hatisur campus will have all the facilities, plus a leprosy day-care centre and a mobile school for street children," said Herod Mullick, secretary of the Bangiya Christiya Pariseba. He called for "spontaneous help" from the people to raise funds for relocating the ashram.
Reverend Roy, however, added that some "adjustments have to be made on the new campus, which is much smaller than the Kalikapur one. For instance, the capacity of the orphanage has to be brought down from 80 to 50".
The creche, however, will accommodate 100 children, instead of 30 in Kalikapur. "The capacity of the women's hostel, too, will be increased from 15 to 40," Roy pointed out.
The ashram has not had a home of its own since the demolition on January 15.
Reverend Roy said the church members used to organise prayers in the open after the demolition, but it proved quite difficult during monsoon.
"We then discussed the matter in a congregation and decided to rebuild the church on the land left unused after the laying of the Bypass connector. We also ran the creche from the plot, but had to shift the orphanage to Canning, in South 24-Parganas and shut down the women's hostel," Roy recalled.
The ashram authorities then approached minister Bhattacharya and Sunderbans affairs minister Kanti Ganguly for "suitable land" to relocate the church and other facilities. "The government agreed to provide us land. We got possession of the plot in Hatisur this month," Roy added.