Posted on January 16th, 2006
Source: The Telegraph – Calcutta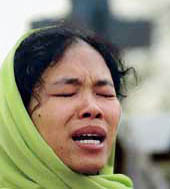 A church in south Calcutta was demolished on a court order on Sunday morning to make way for a key link to the Eastern Metropolitan Bypass, a project undertaken a decade ago.
Hundreds of members of the Protestant church in Kalikapur tried to resist the demolition and clashed with CMDA workers, resulting in around 10 persons, including a few children, being injured.
The situation was brought under control only after a large police contingent reached the spot and escorted the workers out. A picket has been posted and the area cordoned off to pre-empt further protests.
The project, being implemented by the CMDA, has been waiting completion since January 1995.
The road will connect Prince Anwar Shah Road to the Bypass and once complete, will significantly bring down journey time for airport-bound traffic from the south of the city.
However, a 33-cottah plot of Christ Mission Ashram, which housed the church, a creche, a women's hostel and a school was holding up work.
The matter was pending in Calcutta High Court, which on Friday ruled in favour of the CMDA, paving the way for the demolition of the structures.
"It's not that the demolition had come all of a sudden for the church authorities. We had been in talks with them for some time,"' said Debdas Bhattacharya, chief engineer, traffic and transport, CMDA.
"Last year, they had filed several appeals seeking time. Then, Christmas came in the way. After the high court order, we didn't want to drag the issue any longer. The stretch, after all, has to be completed," he reasoned.
Trouble erupted moments after the CMDA payloaders and bulldozers trundled in around 6 am. The agency staff entered the Ashram premises through a rear gate and started pulling down the structures. Hearing the noise, people poured out of their homes and within minutes, a 100-strong group gathered at the site, ready to take on the demolition brigade.
The workers had to stop work for a brief period. But soon after they resumed demolition and were about to pull down a godown " the only structure standing by that time " Reverend Bishop Sukrit Roy of the Ashram arrived and flung himself before the payloader. He had to be removed before the workers could raze the godown.
Roy alleged: "We have not been offered any alternative site for relocation. Where do we go from here?"
The CMDA, however, claimed that it had prepared a rehabilitation package, which could be availed of only by the actual owners of the plot. Officials dispute the Ashram's claim to ownership.
Church sympathisers see a sinister motive in the decision to demolish the church and the adjoining structures on a Sunday. "Why did it have to take place on a day special prayers are held?" asked Herod Mullick, general secretary of Bangiya Christiya Pariseba.
The Trinamul Congress joined forces, with its leader Pankaj Banerjee announcing that he would take up the matter with Governor Gopal Krishna Gandhi.