Posted on September 21st, 2015
It is my joy to write this "Independence day CMA newsletter" for the month of May-August, 2015.
We thank God that this year we could celebrate our 69th Independence Day Celebration at our Canning Christ Mission Ashram campus with the Flag hosting and a "Foot Ball Tournament" between
Our CMA Team and Seoul Dream Church Team. This year our team was winner and SDC team become Runners.
After the football game we had a fellowship Lunch then the Doctors team treated more than 125 patients from the surroundings with free medicines at Good Samaritan Hospital.. A children team of Seoul Dream Church also played with hundreds of Children of our Idea Mission School & surroundings villages, also received gifts from them. The Living Lord has blessed us with Many blessings during this period.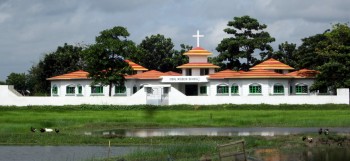 The School was reopen after summer vacation on 12th June and now the examination going on in the school. We thank God that by the help of IDEA, Korea the School building had been painted so nicely that building look just like a new one. Please pray that many students may get admission to the school.