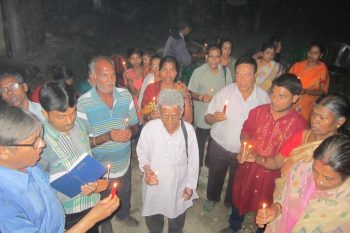 We are grateful to our living God for His guidance and providence as we passed 2015 and entered the 2016 with a watch-night service and New Year's carols. And on the first Sunday of 2016 the theme of worship was "Do you always set the Lord before you? (Psalm 16:8a).
On February 1st we started a one-month Early Morning Fasting Prayer for the completion of Kolkata Mission Center by 2nd March 2017 which would be on CMA & Kolkata Love Presbyterian Church's 30th Anniversary. We thank God that the work has been resumed and is in progress; please pray that the Lord may provide the necessary funds for its completion.
Pray for the upcoming construction work of Nishindra & Parul Presbyterian Church.
Pray that coming summer outreach team for a month many may join and the Lord may provide all the Books, Bible, Tracts and CD etc and a grand harvest.
Tags: newsletter