Posted on December 21st, 2021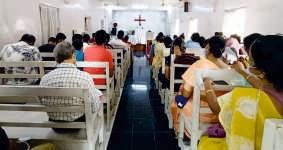 Dear Partners in the Gospel,
I am happy to convey my hearty Christmas Greetings to all OUR advisors, mentors, sponsors, teachers, doctors, pastors, evangelists and co-workers in the midst of the ongoing COVID-19 pandemic, Amphan and Yass Cyclone in West Bengal, India.
We are THANKFUL to God that by His CONTINUOUS protection and grace not a single believer in OUR congregation died from Covid-19. God has SURrOUNDED US UNDER His wings (Psalm 91:4) and we believe He will carry US SAFELY to His heavenly Kingdom (Ex.19:5, Isaiah 64:4, II Timothy 4:18).
We are GRATEFUL & THANKFUL to OUR dear Lord JESUS for His FAITHFULNESS to US as we COULD complete OUR 34 years of ministry in India and RUNNING 35 years. We are delighted to inform YOU of OUR ministries and what the Lord has done throughout the year.